Each week, host Lee Michael goes through his own personal collection to bring you not only the shows you've come to expect on a program like this, but lesser-known or one-of-a-kind programs you might not have heard of, but are worth listening to.
Each weekly hour features a pair of quarter-hour programs or selected short radio comedy bits or special subjects, followed by a full 30 minute program, most with the original commercials. (Big band enthusiasts will, of course, recognize the main theme of the program as "Leapfrog," by Les Brown and His Band of Renown.)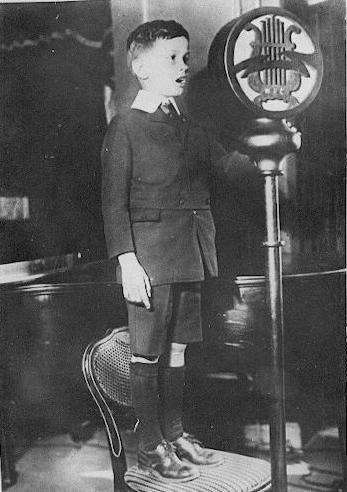 (Artists' rendition???)
Lee Michael, host, producer and writer of The RADIO Show, was born in the mid-1950s, much too late to appreciate the golden age of radio while it was happening (and in fact, on its way out). It wasn't until 1971, he says, when he got hooked on classic radio, thanks to a record album.
"Television was relatively new when we were growing up," he recalls, "so we really didn't listen to radio programs at that time. One day in the summer of 1971, though, I got an album called 'Themes Like Old Times,' which I still have. It was a collection of 90 original radio show openings, and it just blew me away. From then on, I started looking for classic radio shows."
Lee has built up quite a sizeable personal collection of classic programs over the years, but has never bothered to catalog them, nor will he make a guess as to the exact number. The reason? "As soon as I start (making a list), I find out about some other radio shows available...and so the catalog would never be complete!"
The rarest shows in his collection? "That would be a toss-up between 'The Bill Cosby Radio Program,' a syndicated daily 5-minute comedy insert that ran from 1968 to 1969, which few people remember, or a group of 15-minute dramatic shows on 16-inch transcription discs called 'Lest We Forget,' from the 1940s. I found them in an antique store in Richland for $5." The "newest" series in his collection is the excellent 1979 syndicated sci-fi drama "Alien Worlds."
Lee joined the staff of KONA Radio in 2001 after 20 years away from radio. In 2002, he became the producer/writer of KONA's annual RADIO IN RETROSPECT Special, handling the classic radio portion. In 2003 he took on the hosting duties as well for the all-day Saturday special. The favorable comments from listeners, as well as overwhelming and continuing popularity of classic radio in the Tri-Cities, led him to go through his personal files to resurrect a show idea he'd had for some time (dating all the way back to the 1980s), with the end result being that The RADIO Show went on the air on Feb. 8, 2003, where it remained for the next 2 and a half years, first as a Saturday morning feature, with a Sunday edition added that fall. In 2005 (during a "forced hiatus"), Lee had to find a new home for the series, which he found on the internet, thanks to The Olde Tyme Radio Network. The "terrestrial radio" version of the series returned to KONA in 2006. Lee refuses to come up with a list of personal favorite shows because he's sure he'll forget to include one or two.
Click below to go to the following pages:









The Greatest Hits and Rarest Shows from Radio's Golden Age.


Click this to email us with your comments.
Batman says this page looks its best on Microsoft Internet Explorer.
"The RADIO Show", logo and "The Greatest Hits and Rarest Shows from Radio's Golden Age" are service marks of and © Copyright 2003 - 2006 Lee Michael.



All Rights Reserved.